Using The 'Admin' Module And Rubik Theme For Drupal - A Better Admin Experience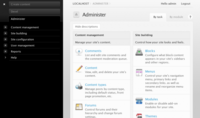 Drupal is the weapon of choice when we create a Content Management System for our clients. In the past we have custom themed administration themes.
I recently stumbled up on http://drupal.org/project/admin, which provides fantastic improvements to the UI of the administration of a Drupal site. I would HIGHLY recommend this for your own sites, or for your clients, especially clients, as the standard Administration of a Drupal site can be quite confusing at first, and daunting!
The Admin module, using the Rubik theme makes good use of clean cut code, and icons to get straight to the point, and make things easier when controlling your site. The interface reminded me of Wordpress's default admin theme, which has been well applauded in the past, and a favorite of mine too.
Resources:
Admin Module: http://drupal.org/project/admin
Rubik Theme: http://code.developmentseed.org/rubik