Find Local Web Design In Wakefield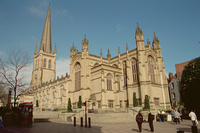 If you're looking for web design locally, Big pepper may be able to help. We are experts in helping your online presence grow, and because we're Wakefield based, we're at your door step. We do more than make your web site look appealing. We use clean code which is search engine friendly, this gives you a much better chance in being found through Google, Bing and such. There is a lot of competition on the internet in many sectors, so it is important to find a good web design company which can deliver the goods.
We understand it may be tricky, and a little confusing knowing exactly what you need for your web project. We help guide you through this process, using great communication. Big pepper work with you in order to achieve a successful web site. Many of our customers in Wakefield have been very happy with the result. We like to get things right first time or you, this saves you money and time.
Integrated in to our web design is a content management system, this allows you to edit your content on the fly. So if you need to edit pages, upload images, add news to your blog, this can be done through this type of system. This saves you having to go backwards and forwards to web design companies, asking for amendments, but also your content is exactly how you need it to be.
Choosing the right keywords in your website is another way of beating competition in search results. We work with you to find the best suited keywords, which we plug in to your website from the ground up. Knowing which keywords work best is our forte. We compare keywords with your target competition, this ensures more hits to your site, and a much better user flow, which in turn, a better income and a successful site.
For more information on what we can do for you, or if you have any web design queries, please contact us for web design in Wakefield. If you live in the Wakefield area, we can meet up, discuss plans over a nice cup of coffee.