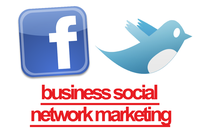 Spreading the work and promoting your business can be expensive. A great way of promoting or launching a new business is using social networks such a Twitter and Facebook. The reason why this works so well is users spread the word for you, by sharing content with their friends on a social network.
Using promotional methods such as competitions, news about your business and more can be updated via a Facebook app, or business page, in order to reach and gain potential customers.
Big Pepper offer development and design for social networks. Below is a recent social network campaign we have created for a website soon to launch.
Need a social network marketing campaign? Contact Big Pepper Design
A colleague who has strong ties with Twitter has apparently heard of Google and Twitter joining forces next year? How true this is I'm not sure, but would make a lot of sense, as Google already displays Twitter feeds in it's search results. Given Googles muscle, and need to be on the bleeding edge of information, it wouldn't suprise me. Can anyone shed any light on this? Would be great to hear from you.